We build for you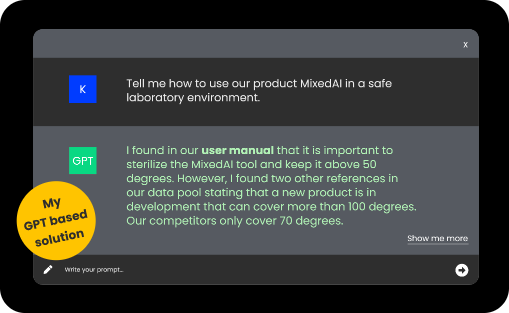 Custom Generative AI Solutions
Explore a variety of generative AI technologies, including GPT, to create personalized content and more.
Personalized 3D Movement Analysis
We tailor 3D movement recognition solutions to your unique needs for enhanced efficiency and safety.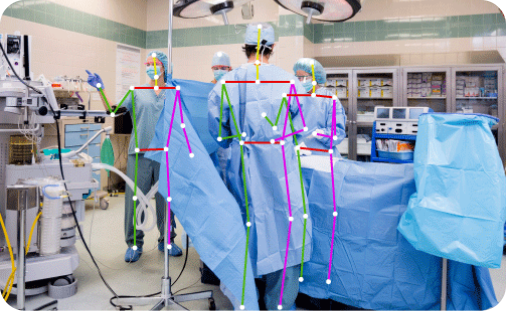 …and other AI Solutions tailored to your needs.
We guide you step by step through the entire innovation and implementation cycle
All the way from creating a solution-based IT concept, to launching a Minimal Viable Product (MVP), and to establishing product-market-fit.
Products we helped to build
Why us?
Ideas validation
first
We validate ideas and build MVPs first, to verify project success before you invest in full implementation.
Precision-crafted AI solutions
We create solutions designed for your unique business needs.
Know-how in the latest technologies
Our team works with both top technologies and the latest advancements from scientific research.
The use of technological solutions and the demand for products associated with huge amounts of data are increasing rapidly. This is because companies and institutions are increasingly facing entirely new challenges. New solutions need to be developed quickly to produce groundbreaking innovations and gain a competitive advantage. Unfortunately, quite frequently innovative projects fail. It might be caused by multiple reasons – starting with a lack of understanding of the business problem, long and costly implementations, missing know-how, or technological mismatch.
At theBlue.ai we want to guide you through the whole implementation path of AI projects – from defining and specifying the underlying business need, defining and implementing Minimal Viable Product (MVP) or Proof of Concept (PoC) to quickly validating the concept in your company or institution to building a scalable AI solution in cloud or in form of Edge AI.
As AI experts, we bring your IT concepts to successful and scalable solutions. We are your AI partner for fast project validation and implementation. We focus on technologies such as Artificial Intelligence (AI), Machine Learning, Big Data, Data Engineering, and Quantum Computing, as well as Quantum Machine Learning. With our know-how of the latest technologies, we cover a huge area: from healthcare, automotive, retail, and industry to professional services, politics, pharmaceuticals, and engineering.
Marc-Angelo Bisotti, CEO - Policy-Insider.AI
"The close collaboration with the team at theBlue.ai was essential in understanding the technical opportunities AI could deliver to solving our problem. From the development of a Proof of Concept to the release of the product in the market, the streamlined and structured approach ensured a timely and cost-efficient process."
Our partners



Empowering Innovation with AI Solutions
Our clients often aspire to transform processes and innovate new products, unhindered by technological limitations.
With our expertise in cutting-edge AI technologies, combined with proficiency in cloud, edge, 5G, web development, and UX design,
we empower them to make their visions a reality.
High tech innovations for a better world
Over the years, our team has developed an efficient workflow for advanced technologies, including GenAI and Machine Learning projects. Our processes ensure swift and adaptable outcomes. This is why we stand as the ideal partner for your visionary concepts. We conceive intricate AI products, spanning from initial ideation to the realization of polished solutions, and we wholeheartedly engage in your IT undertakings. Whether they entail minor refinements to existing processes or the complete development of novel products, we are here to provide our unwavering support. Technological limitations are foreign to our perspective, as we firmly believe that nearly everything is attainable. Innovative technologies indeed foster progress and enhance the world.